Swede Hollow / Phalen Creek / Vento Trail
All images Copyright 2003 Ron Nelson
---
Click on any image for a larger version.

This year I'm going to try to take pictures of the parks and trails I get too... Should be fun.
The first trail I've got is the downtown end of the Bruce Vento Regional Trail. This used to be the Burlington Northern Trail, and starts on seventh street in Saint Paul running through Swede Hollow, connecting with Phalen Park rails and the Gateway Trail.
(There are other sites with pictures of this trail too...)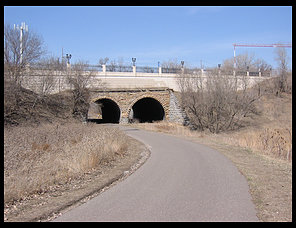 These are the Seventh Street Improvement Arches. Built in 1884, it's cool because of its skewed, helicoidal, stone-arch design....
Here you can see a bit of what made Swede Hollow a "hollow". Of course, you don't have the Swedes here anymore. The last houses were condemned when the Saint Paul Health Department discovered that Swede Hollow had no sewer or city water service and declared the Hollow a health hazard..
(Google can help find more history on the area...)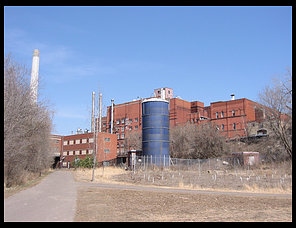 The old Hamms brewery, last used for Stroh's...
At this point, the trail shifts to more of an "industrial corridor" feel...
3M...
Pretty, eh? <grin> This is just the start of an especially "scenic" stretch. But it's not all factories! There's also tow lots, junkyards and auto repair shops, as seen below!
Finally, we reach the apartment building neighborhood. That's the end of this trail segment...

Next, Phalen Park!

---

Ron Nelson <rnelson@ronspace.org>
Last modified: Fri Apr 11 13:33:22 2003