Amsterdam Pictures
All images Copyright 2001 Ron Nelson
---
Here is a list of the individual pages from the trip: Click on any image for a larger version.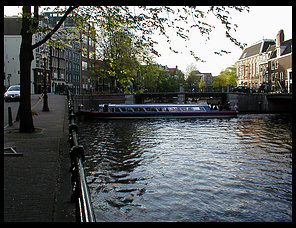 Well, I finally took the big vacation. After talking about it for years, I called my buddy Tony. "Let's do it. I'm flying out May 18th." <grin> So, after hitting Northwest's site, I cashed in 78000 miles and picked up tickets for myself and Lisa. Tony handled LuAnn's and his, for a happy foursome heading overseas.
After taking off at 1 in the afternoon on Thursday, we all arrive in Amsterdam at 8 Friday morning. This is my first time in Europe, and we're all excited. And tired. Very tired. I couldn't get any sleep on the flight, and am now going through the motions.
Taking further advantage of the years I've spent on the road, I burned Marriott Rewards points, and got a room at the Amsterdam Marriott. This put us right off Leidseplein, a block away from Vondelpark, three blocks from Museumplein. I couldn't have asked for a better setup. Like all of my travel pages, I have pictures of the room posted. <grin>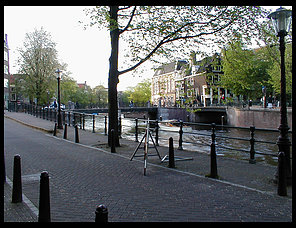 As you can see from the pictures, there are canals everywhere in Amsterdam. And not all of them came with guard rails, adding to the excitement of the walks around town...
The other thing you see everywhere in Amsterdam are bike trails. These are entertaining, as the biciclests have right-of-way throughout the city. We all had to stay alert to avoid being run over, or at least run into. (Some of us are not as easy to run over as others...)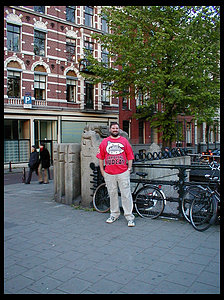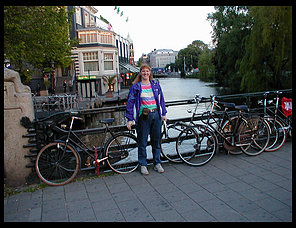 Here I am, in my traditional travel wear. I've got snapshots of myself in this shirt in Monterey, the Cruise I took in 1999 and probably others...
I also have a picture of Lisa here. After the trip, I noticed that I didn't take many pictures of anyone who came with. GuesS I'm just not used to that...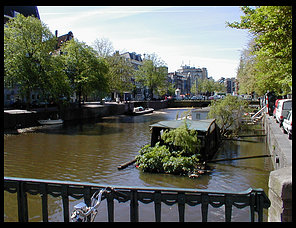 In the canals you'd often see houseboats moored. Some were elaberate houseboats. This one probably only stayed afloat thanks to woods natural bouyancy. I noticed a bit of interesting plant life on board as well, probably one of the reasons I snapped the shot...
<grin>
It seems that quite a few folks are interested in that aspect of Amsterdam, judging by the number of links on sites like World66.com and others...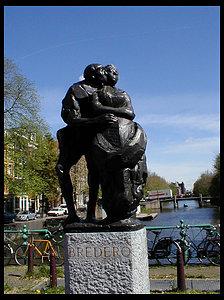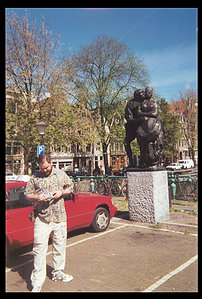 Obvious as it might seem, I spent a lot of my time in Amsterdam just wandering around taking pictures. This picture is one of those shots... When looking back at it, it's not easy to tell what this statue is or meant to be. Google searches tell that there was a Bredero who was a Romantic poet from Amsterdam. I found one other page that might relate to this, but I can't tell since it's in Dutch.
Funny shot, though. Tony got the one of me playing with my camera...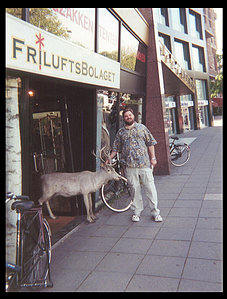 Tony got this shot of me too. Made some crack about my making friends with the locals...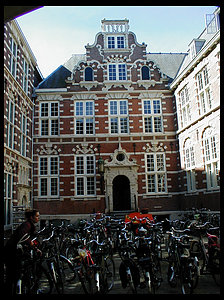 Did I mention everyone rode bicycles?
This is a courtyard for a girls school, I believe. Just a snapshot I took during the day...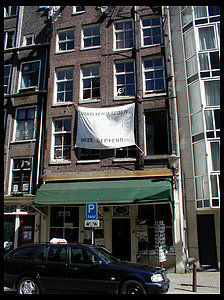 Like any city with a strong tourist industry, there's a bit of resentment. (I remember this from growing up on Minnesota's North Shore...)
I saw this banner hanging on one of the side streets while walking around. As best I can tell, it says "Tourist Season Now Open" in Dutch. The rifle with cross hairs on a person holding and "Amsterdam Map" kind of implied that too...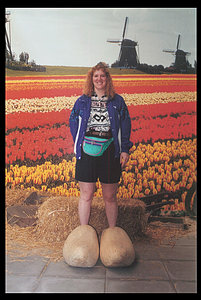 I was given this shot from Lisa's trip to the tulip parks outside Amsterdam. Silly...


I don't really have much to say for the rest of the pictures on this page. Just shots I thought were interesting...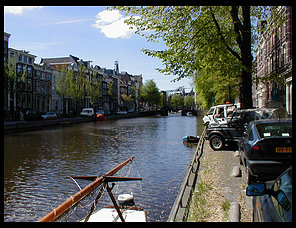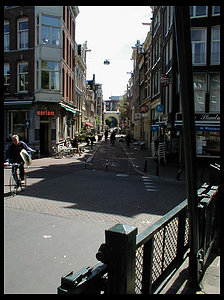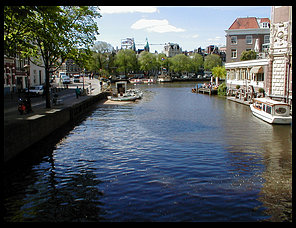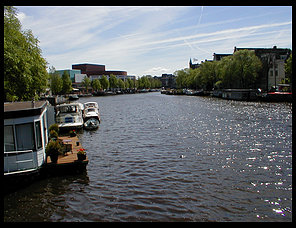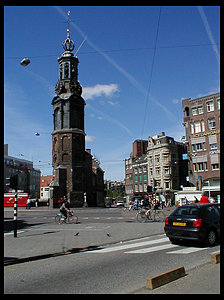 This snapshot was of Munt square (Muntplein, I think.)
Continued on the next page...
---
Last modified: Sun Oct 21 12:40:23 2001