Grandma's 80th Birthday Party!
All images Copyright 2002 Ron Nelson
---
Click on any image for a larger version.


<sigh>

Looks like I could have held the camera a little bit better for most of these shots. Sorry about that...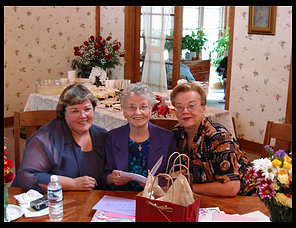 Well, I was up in Crosby to wish my Grandma a happy 80th birthday. My mom and aunt put a party together for her, inviting friends and family. She's living at the Hallett Cottages, and we got together in a community room. Here she is, sitting between my mom on the left and my aunt Judy on the right.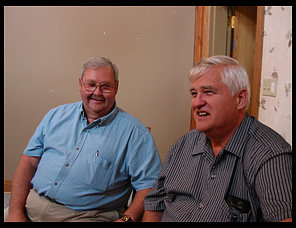 Here's a picture of Dave and my dad...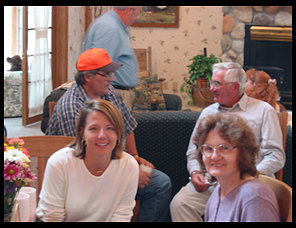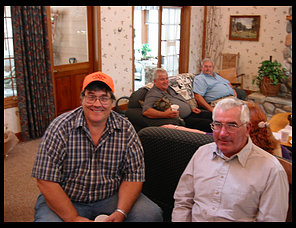 And here's more family: On the left there is my cousin Janelle and aunt Sandy. Behind them is my uncle Duane and Bud.
On the right is a better shot of Duane and Bud, with my dad and Dave in the background.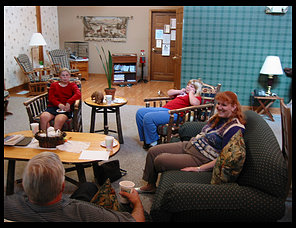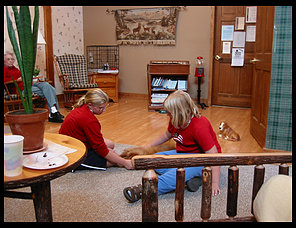 And here's Lisa, with her daughter's Sara and Jessica.
And a picture of Sara and Jesse playing with one of the pets that the Hallett Cottages has. (A good idea IMO, the residents love them.)

Here's Dave and my mom's cousin Cheryl.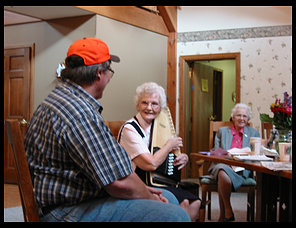 And the party ended with Mabel playing the autoharp.
Here she's serenading Duane...
<grin>

---
Last modified: Tue Sep 24 19:39:13 2002