Dallas Pictures, Spring 2001
All images Copyright 2001 Ron Nelson
---
Click on any image for a larger version.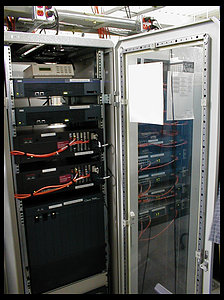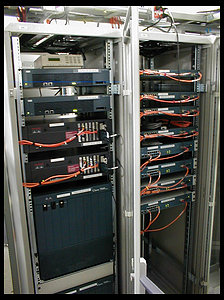 These are snapshots of the networking hardware for WebLink Wireless. I worked with the Gauntlet firewalls and Cisco Registar DNS servers, but didn't take any pictures of those.

On the other hand, if you've seen one Sun E250, you've seen them all...
---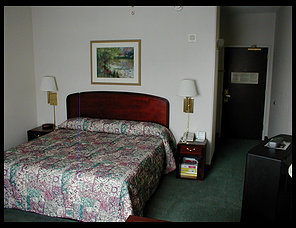 Here you have the traditional Hotel Room Pictures (TM). <grin> This is my home in the Addison Wingate Inn. Free high-speed internet, and better cable access than the Courtyard across the street. Woo-Hoo!
---
I did manage to catch a Dallas Stars / Edmonton Oilers game while in Dallas. Me, Jim and Don picked up pretty good lower bowl seats from a scalper outside the rink too. Right down where I could heckle Eddie Belfour! Woo-Hoo!
I have to say, the Dallas/Edmonton games I've watched have all been a blast. These two teams really don't like each other, and with Edmonton's wide-open style it can be a fast fun ride.
You can see the bad blood, as the first two shots I have a of a fight that broke out within five minutes of the start of the game. Thankfully, everyone near my seats were too small to beat me up for cheering on the Oilers. <grin>
---
Ron Nelson <rnelson@ronspace.org> Last modified: Thu Sep 27 08:04:02 2001