Twins game I attended with Scot and Karen. They were passing through town and took me to see the game. Twins win!

I took a few pictures of the new trail along the river in downtown St. Paul. Another trail to add my page listing all the "trail pics" I've taken.

Wild vs. Calgary from last March. This was a fun game for me, as I picked up a ticket from a scalper that had me sitting directly behind the visitor (Calgary) penalty box. Though I reviewed the game I had recorded on TiVo, and all you can see of me on TV was my legs and the bottom of my coat. <grin>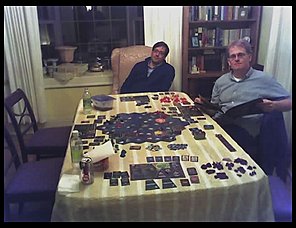 Geek time... Yep, getting together with friends for late-into-the-night gameing sessions. These pictures are from a Twilight Imperium night.
Pictures from my 2005 hunt are online. Not many so far, but I may get some more from the others. (Sorry, we were in a hurry to get to Duluth for the UMD hockey game, and forgot to get any pictures with the hides on...)
Pictures of Lisa's parents houses (old and new) are online.
I had not played organized hockey for twenty years... So this summer a couple of friends and I took part in the AHA Beginner Hockey program this summer.
After a summer of practices and games, things ended well. <grin>
| | |
| --- | --- |
| Age Group Place: | 18 out of 38 finishers in Men 35 to 39 |
| Gender Place : | 139 out of 345 male finishers |
| Category Place : | 211 out of 714 finishers |
| Chip Finish Time: | 1:56:33.03 |
| Gun Finish Time: | 1:56:41.48 |
| Overall Pace: | 13.5MPH |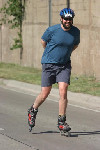 As you can see, the Saint Paul Inline Marathon was the other weekend, and I skated my first. Not bad, eh? The placements are for the catagory I skated: Recreational. The Fitness catagory skaters have finish times around 1:30 to 1:45! That's for drafting weenies <grin>

I'm remembering my Grandma Helen Anderson... She passed away last week, and I was up in Crosby for the funeral Sunday. Happier (recent) memories include her 80th birthday party...

Lisa and I were in Las Vegas last June, and since we were there... <grin> I've got the full collection of pictures from the wedding online. I also have the full set of my Vegas pictures online too. I haven't had any time to put any text into there yet, but you can see a bit of the fun.

I'm just pushing up pictures that I've taken over the last few months that I haven't had time to edit yet. These include shots of Deer Season 2003 and pictures I took while in Washington D.C. for 2003 USENIX Security Symposium

And I will always keep a full index of all of my Picture Collections online here. (Disk is cheap, never throw anything away.)

I have a document with several useful links for UNIX system administration. Let me know what you think.

Well, I really don't want to set up a document detailing who I am and what my interests are, other than the obvious Dilbert interest. However, I also don't want a Bookmarks list a mile long. So if you would like to see links that I check out frequently, you can check it out.

Here's the traditional resume posting.

Consultants are everywhere. Consultant's News wrote a piece poking fun at consultants expense.