My Trip to Yosemite
For my last weekend in Northern California, I decided to take a road trip to Yosemite National Park. It was incredible, and someday I plan to get back there to do the park justice.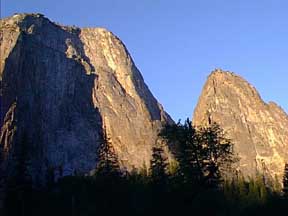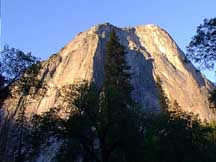 I drove into Yosemite as it was growing dark. Driving through the valley that makes up the park at night was interesting, as you could feel the rock walls to the sides. However, you couldn't see anything but the stars overhead. (After spending the last few months in the Bay area, incredibly bright stars...)
However, there were no rooms available in the motel in the park. So, just like my student days, I parked along the road and slept in the car. (Though I don't remember the car having leather seats and a CD player in those days...)
When I woke up, this is what I got to see. What a morning!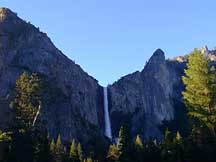 This is a picture of Bridal Veil Falls. The main park consisted of the valley cut out of the hills, with waterfalls all along the sides. Incredible.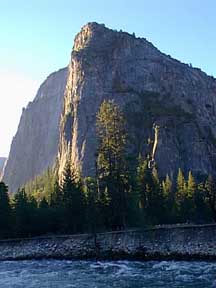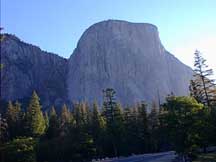 I snapped this picture, as there were quite a few climbers on this rock when I snapped this picture, probably before 0630...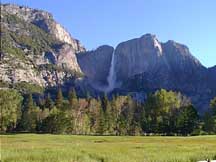 I thought this captured the park fairly well. What you see is a perfectly flat valley floor, with sheer rock walls shooting up on either side. I skated the paved trails and roads of the park in the morning, and took this picture of the far side of the valley.
What you might be able to get from these pictures is the state of the valley while I was there.
Wet.
In fact, parts of the trails were closed due to flooding. Not as bad as the year before, though. I saw the cabins that used to be used in the park. All of the cabins on the floor of the valley were destroyed by the spring floods, with high-water marks eight feet up the side.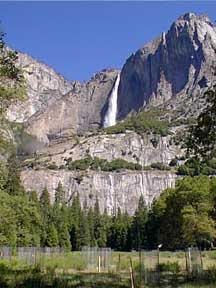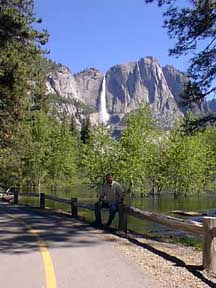 More waterfalls. And a picture of me in skates, taken by Germans!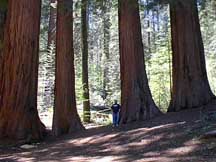 Finally, my last misadventure of the trip. On my drive out, I decided to stop and see the Merced grove of sequias. (sp?) The park guide said that it was just a 1.25 mile hike to the grove, one of the few with young trees.
However, this is as far as I got. This is a smaller grove, about two thirds of the way there. This is after hiking over a mile down a mountainside, in sweltering heat, with no water. Incredibly stupid, actually.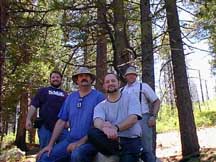 And here is the picture of me with the guys that saved me. They brought water with, and shared with a poor fool. The kindness of strangers....
---
Ron Nelson <rnelson@visi.com> Last modified: Fri May 21 20:47:48 1999