My 2002 Cruise/Florida Vacation
Vacation!
Woo-Hoo! I burned some more vacation time, and flew down to Florida to take a cruise with my friends Scot and Karen.
Saturday

Here you can see the Miami, as we're pulling out of port on the Carnival cruise ship Imagination. I stitched a couple of pictures together for this, but I think it looks good enough to show...

More Miami port pics...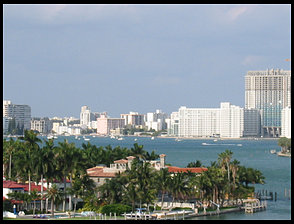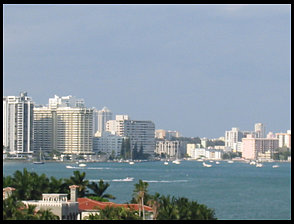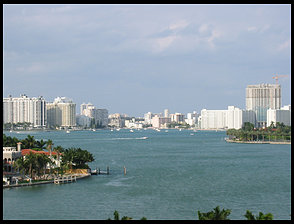 This vacation was Scot and Karen's idea (I don't know who's...) I just got a call from them one evening saying, We're taking a five day cruise leaving Miami April 6th. Call the travel agent at this number to go...
So I'm paying them back with these pictures.
<grin>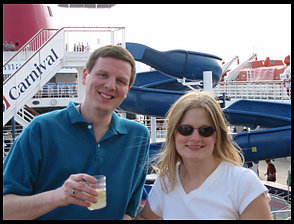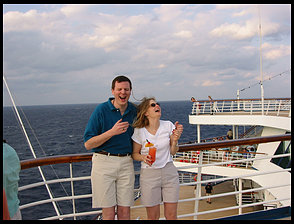 My full set of Saturday pictures can be found here.
---
Sunday Sunday was a "Day at Sea," so I didn't take too many pictures. Just a few shots of us all dressed up for the formal dinner, and a couple of shots of the cabin. First, the pics of Scot, Karen and I all dressed up...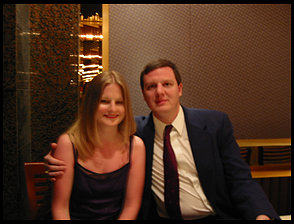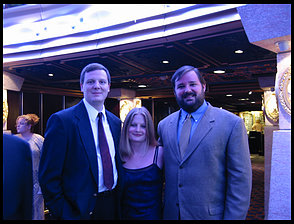 Now cabin pictures. I bought the cheapest cabin I could get, which turned out to be a cabin on the lowest deck passengers can stay on near the bow of the ship. Still, as you can see, the room is sized like any other double cabin. Here I am, still dressed up from the formal dinner...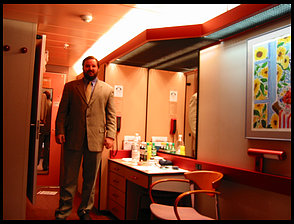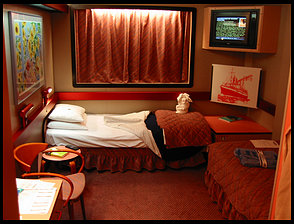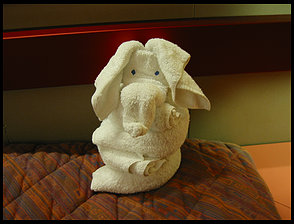 Also, it seems to be a tradition for the room stewards to leave little towel critters in the room when they turn down the bed. It also appears to be a tradition to take pictures of the little beasties. Who am I to fight tradition?

My full set of Sunday pictures can be found here.
My vacation pictures continue here...
---
Ron Nelson <rnelson@ronspace.org> Last modified: Mon Apr 15 13:44:56 2002