The "Style" of the Detroit Renaissance Center
All images Copyright 2002 Ron Nelson
---
Click on any image for a larger version.


And here we have the Detroit Renaissance Center. It appears that in the seventies, there were architects that thought "Concrete looks good." Well, history has proven them wrong on many occasions. This is just a dramatic example of it.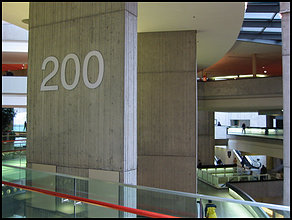 From the outside, the Detroit Renaissance Center looks impressive. It's only when you get inside that it becomes obvious how bad it can get.
On the architect's web site today, The Renaissance Center is notably not among his list of "Achievements"
I took these shots on a fairly bright day so the place is not nearly as depressing as it can get...
Enjoy.
---
Ron Nelson <rnelson@ronspace.org> Last modified: Wed Jan 30 17:32:58 2002