New Toys
All images Copyright 2002 Ron Nelson
---
Click on any image for a larger version.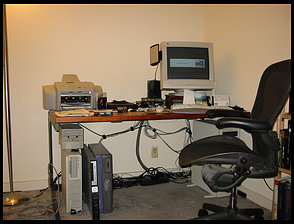 Happy Time! I now have all the computer toys I will need... (For a couple of weeks, at least. <grin>)

Here's a picture of my current den/lab. Well, just the desk and toys, anyway. The fun toys are on the left...


Yup, that includes:

The important fact (for me) is that I have a new Sparc workstation! Woo-Hoo!

I see now that I need to revisit my cable management though...

---
Ron Nelson <rnelson@ronspace.org> Last modified: Mon Mar 25 13:51:58 2002