Duluth Bayfront Blues Festival 1998
For the last ten years on the second weekend in August, Duluth has been home to the Bayfront Blues Festival. I've been attending since the first one in 1988, and have heard some incredible music and had a great time every year.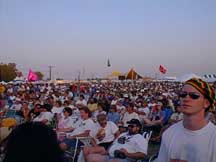 This is what it looked like Friday evening, the first night of the show. I have never seen so many people at this fest on a Friday night. This has gotten bigger and bigger every year, and with the weather this nice (high 70's, clear skies) the crowds are unreal.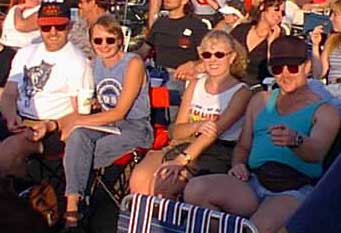 At least half the reason I come up to this every year is to meet with friends. Often I haven't seen these people since the Blues Fest the year before! Here we see, from left to right, Barry and Ila, and Nickole and Matt. Nick is a friend of mine from when we first started at UMD. Barry and Ila are her parents, and Matt is her fiance.
One of the other friends I get to meet at the fest is Mike Hudak. You can't see any pictures of Mike, as he got quite upset when I took his picture and demanded that I delete it. However, he's teaching at the Mathematics Department of Troy State University. Be sure to send him email at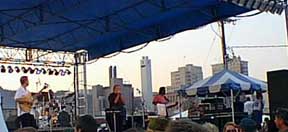 Here's a picture of Charlie Musselwhite playing Friday evening. He played the best set of the day, IMHO. Though I wonder about one thing. Both times I've seen Charlie, he's ended the show playing Christo Redemptor. He said this time that it was requested at every show. That was recorded on his first album in 1962. That's a lot of time to be playing the same tune. Still, he did a great job of it. I suppose that's the difference between pretentious rock stars and blues musicians trying to make a buck. <grin>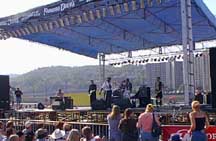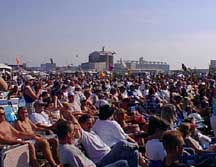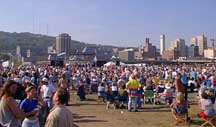 Ooops. Don't have a photo editor with me...
This was the Tony Castro set. I was blown away by Tony, as was the rest of the crowd. I'd definitely recommend him to anyone, and plan to catch any future shows of his I can get to.
This was the closer Sunday night. Jimmy Vaughn. Not too bad a year, eh?
Good night, all.

---
Ron Nelson <rnelson@ronspace.org> Last modified: Mon Sep 14 21:55:14 1998